Contributed by Anita Akinyomade
A significant agricultural transformation is underway for maize breeders across the globe to overcome the challenge of data loss. IITA, Excellence in Breeding (EiB), International Maize and Wheat Improvement Center (CIMMYT), and other partners launched the Enterprise Breeding System (EBS) for maize breeding data management on 22 April. CGIAR EiB platform led the EBS development. EBS supports CGIAR and National Agricultural Research System (NARS) programs to adopt modern breeding workflows and data management practices.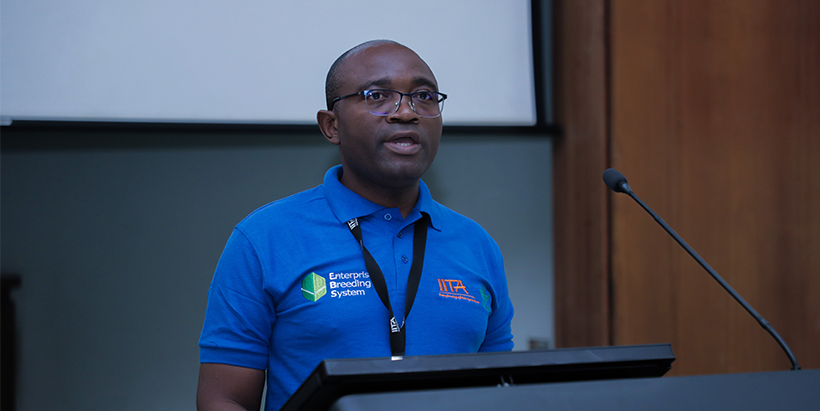 EBS is an open-source, cloud-based breeding informatics system developed for crop breeding programs serving resource-poor farmers in Africa, Asia, and Latin America. It provides key inputs to the modernization and digitization of breeding programs to achieve the ultimate goal of increasing genetic gain and farmers' yield. EBS provides a single powerful and inclusive tool to accelerate the development of improved crop varieties through data-driven decision-making.
IITA West Africa Hub Director Michael Abberton welcomed and congratulated everyone involved in the training and launch of the EBS-Maize Platform to ensure people are familiar with and adopting the system. He mentioned that the system was a combination of work and a start of something new in transiting into One CGIAR. Therefore, "EBS will bring closeness and cooperation between other CGIAR centers," he stated.
Business Change Manager (BCM), Dr Wende Mengesha, said that the deployment of EBS is aligned to crops to end hunger and the request of CGIAR centers to optimize breeding programs and provide shared services to CGIAR regional breeding networks. He explained that the software would be used to collaborate with our national agricultural research systems (NARS) and private sector partners and share the newly improved system for data management and data analysts with them. Hence, "we can reach the ultimate goal of increasing agricultural productivity and lifting people out of poverty through collaboration," he said.
IITA Head of Breeding John Derera and Breeding Data Manager Simon Imoro presented the IITA EBS roadmap. Derera gave an overview of EBS, which comprises the core breeding module-experiment creation and management, germplasm and search, list management, and data collection and upload. In addition, he highlighted the digitization project achievements in IITA, including implementing EBS for maize improvement; training on digitization at IITA and partners; establishing bioinformatics infrastructure and systems administration; and utilizing server resources by multidisciplinary teams.
Imoro explained that the data was curated from a baseline data survey stored in a spreadsheet, a non-standardized format, and pedigrees non-curated. They did this to ensure the data was of good quality, accuracy, and high integrity. He added that a training was organized for biometricians, data managers, and breeders to ensure a successful EBS migration.
EiB's Director and Accelerated Breeding Initiatives (ABI) Lead, Dr Michael Quinn, noted that EBS is important in achieving the goals of ABI and Crops to End Hunger (CtEH). These include an increase in the rate of genetic gain in farmer's fields and support data management for better breeding.
EBS Project Manager, Dr Steffan Weber, commended the cooperation between the breeders and developers that yielded great success and a path to continue. In addition, EBS will make it easier for people to exchange data and harmonize data standards, process workflows to make it easier for people to collaborate and elaborate between breeding teams, CGIAR, and NARS breeding networks. He added, "We look forward to releasing more functionalities."
IITA Maize Breeder and Maize Improvement Program Lead Abebe Menkir stated that different software programs have been developed and adopted to analyze data in IITA and CIMMYT. Thus, the maize management in the CGIAR Research Programs (CRP) decided to have a common platform for IITA and CIMMYT for standardization, consistency, and ease of data sharing and reuse. He thereby launched the EBS Platform for the users.