GUS is staffed by a dedicated team of data management experts who offer support to CGIAR, partner Centers, and NARES.
Their primary goal is to facilitate the adoption and utilization of the software tools and devices supported by CGIAR's new Breeding Information Management and Technology (BIMT) team. Launching GUS is an important step forward in standardizing breeding data management, within our organization but also for partners.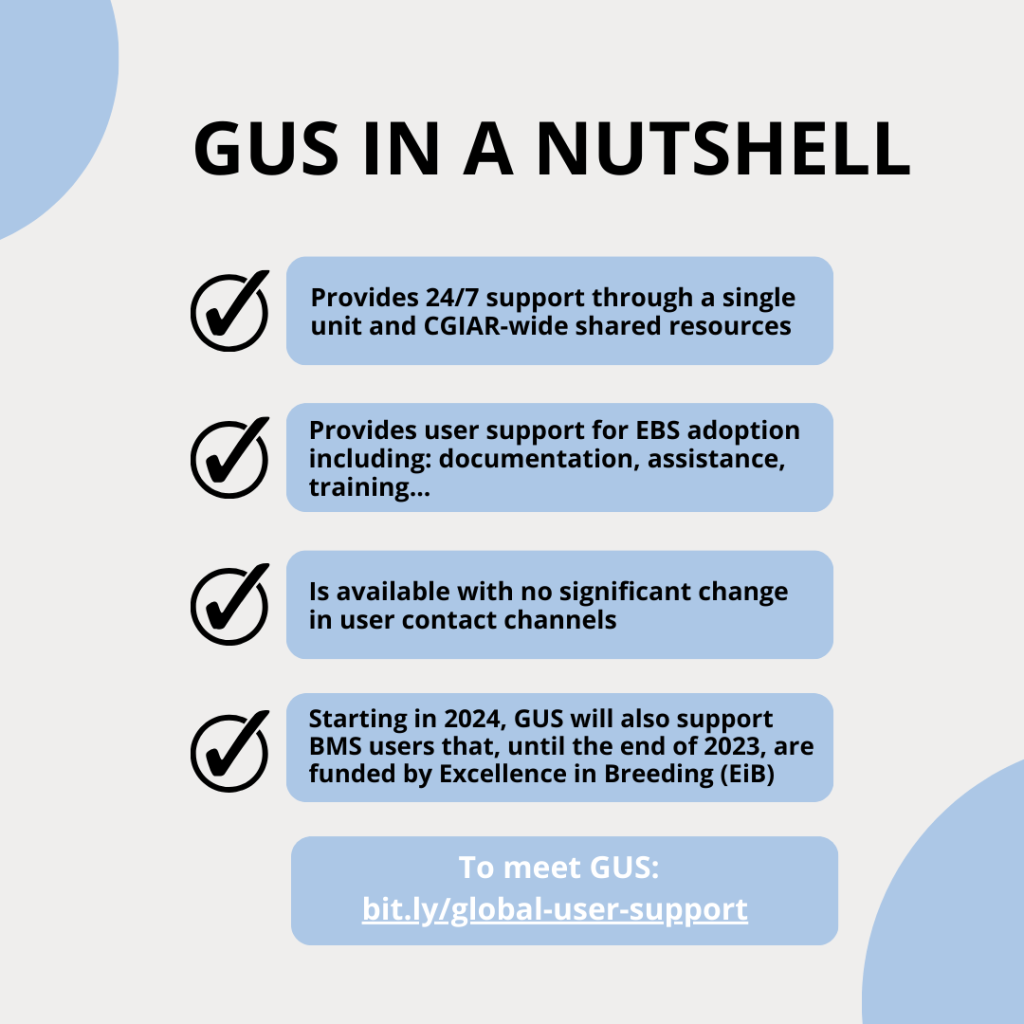 Empowering data-driven decision-making
To deliver the varieties that best meet market-demand, modern breeders must make rapid and optimal decisions based on large amounts of data that can only be managed by breeding information management systems. For CGIAR, partner Centers and NARES, implementing these systems can be a long and complex process. This is where CGIAR's new Global User Support (GUS) comes in.  
GUS aligns with CGIAR's recently released breeding information management strategy, which calls for all network partners to gradually adopt a unified breeding data system known as Enterprise Breeding System (EBS). 
"GUS's purpose is to offer unparalleled assistance for breeding data management tools, enabling data-driven decision-making across CGIAR," says Edie Paul, member of the EBS Management Team and GUS Lead. "Instead of the current center-focused model of support, this centralized unit is equipped with a master set of resources and standardized processes. This will optimize the support team's resources, facilitate knowledge sharing – and ultimately expedite progress." 
GUS is structured around three core areas: training and documentation, adoption assistance, and general user support.
The resources provided for general user support include a support desk staffed 24/7 channelling user inquiries and connecting them with the appropriate specialists. Through the platform, users can ask questions, request help, make suggestions and report issues. They have access to user guides, release notes, e-learning material, and video tutorials in multiple languages.
For those embarking on the journey towards adopting EBS, GUS through the area of training and documentation extends its support throughout the adoption process. Users can request access to a demo environment, to test EBS and familiarize themselves with the system before making the transition.

The new global user support network is a pivotal component in Breeding Resource Initiative's roadmap, as it is designed to centrally manage IT services across different crops, regions, tools and needs.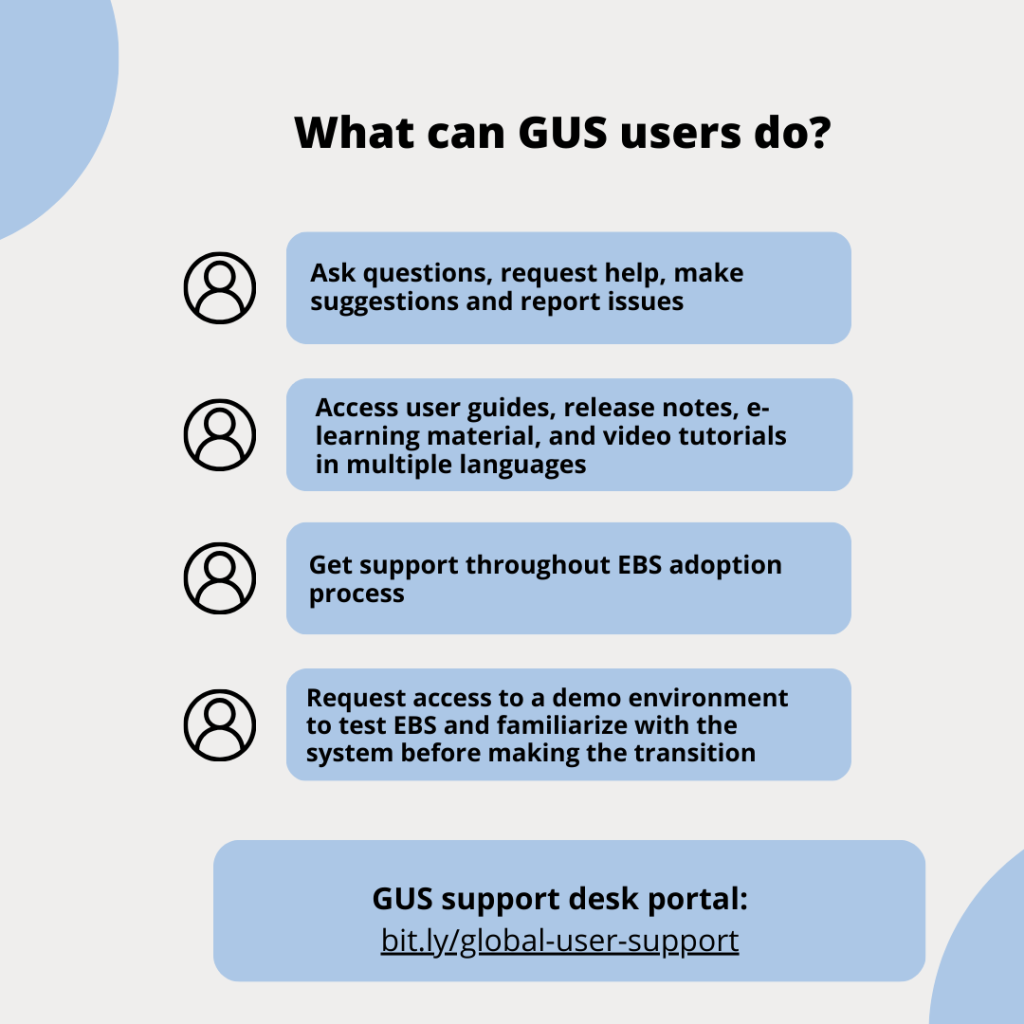 Expanding support and adaptability for EBS adoption across CGIAR
As the development phase of EBS concludes this year, a new organization-wide unit, the Breeding Information Management and Technology (BIMT), is set to be fully operational under BRI by early 2024. BIMT manages, develops, and maintains data management tools used for breeding across CGIAR, with EBS as its backbone. The global user support network's role within BIMT is crucial, ensuring users receive high-quality issue resolution, while gradually transitioning to EBS in the coming years. 
In this context and while continuing to support users adopting EBS, GUS is also expanding its services to encompass Centers and partners in the pipeline for EBS adoption. Starting in 2024, support will extend to Excellence in Breeding (EiB) funded CGIAR users of Breeding Management System (BMS). These BMS users will transition to EBS in the coming years through a carefully planned and managed process.
GUS also addresses a pressing need, as more users adopt EBS. First adopters were large programs with significant funding, while new users do not necessarily have the same resources, leading to different adoption experiences. Some NARES partners may require more assistance, so user support must be adaptable to cater to diverse needs.
Andre Moretto Embersics, EBS IT Program Manager explained, "Our partners might adopt EBS in collaboration with a Center, as partners, or on their own instance. In this context and to ensure the smoothest adoptions of EBS, we need to provide various forms of support to cover all adoption pathways."  
The EBS team is diligently preparing for this shift and the expansion of users. Building a global support function is paramount to ensure the quality and timeliness of EBS deployment. This will be made possible by streamlining processes, eliminating duplications in efforts, and working closely with local support teams to strengthen their capacity – all possible thanks to GUS.